A client aware of environmental quality commissioned a study of environmental measurements on an apartment that was reformed by Roger and Miquel from MA + SA architecture firm.
After checking that with small adjustments, the house became healthier, Roger asked for a study of their office in the district of Sant Andreu in Barcelona.
Diagnosis
The office was well distributed. The busiest workspaces were located in the interior part of the building, with natural light coming from an interior patio and away from the noise of the street. In addition, they were free of any serious geobiological alterations from the subsoil.
Six main shortcomings were detected:
Strong electromagnetic field coming from a WiFi router located just one meter away from the workspace
Lack of ground to the electrical installation. Besides being a security problem, it increased the electric field of the workspace.
High environmental concentration of particles in suspension despite the periodic cleaning of the space
Rapid accumulation of carbon dioxide
Strong presence of radon gas from the subsoil
Low light quality of artificial lighting: incomplete spectrum of colours and an excessive blinking detected by the impulse counter.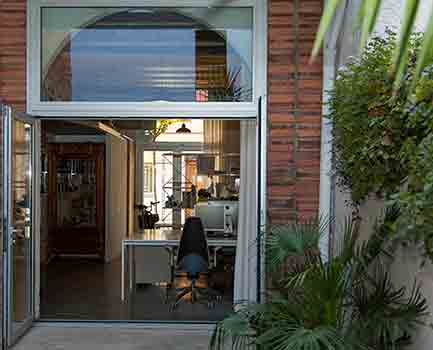 Study of an architectural studio